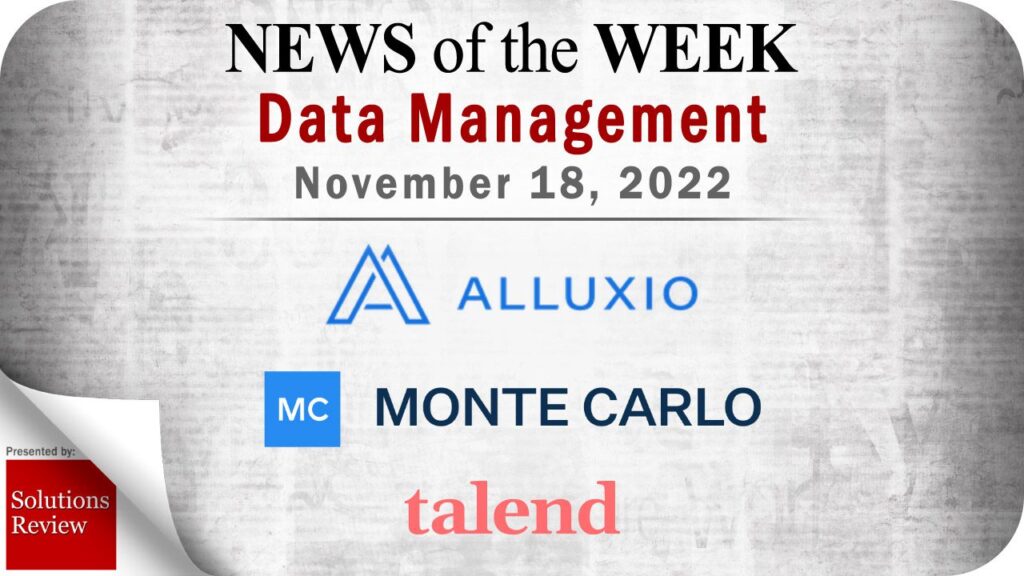 Data management news for the week of November 18; Updates from Alluxio, Monte Carlo, Talend & More
The editors of Solutions Review have curated this list of the most notable data management articles for the week of November 18, 2022.
Keeping tabs on all the most relevant big data and data management news can be a daunting task. Accordingly, our editorial team aims to provide a summary of the top headlines from the past week, in this space. Solutions Review editors will curate news on vendor products, mergers and acquisitions, venture capital funding, talent acquisition, and other notable big data and data management news stories.
Top Data Management News for the Week Ending November 18, 2022
Alluxio releases new version of popular data orchestration platform
This new release strengthens its position as a key layer between compute engines and storage systems by providing support for a scalable multi-tenant architecture with new cross-environment synchronization feature, improved manageability with significant improvement Alluxio deployment tools and guidelines on Kubernetes, and improved security and performance with a hardened S3 API and POSIX API.
Read on to find out more.
Dynatrace expands its Grail Causational Data Lakehouse for business analytics
As a result, the Dynatrace® platform can instantly capture business data from large-scale proprietary and third-party applications without requiring engineering resources or code changes. It prioritizes business data separately from observability data and stores, processes, and analyzes that data while maintaining context of the complex cloud environments from which it originates.
Read on to find out more.
Structured Data Management Responsible for Most Storage Spending: Report
The workload driving the largest share of enterprise IT infrastructure spending in the first half of 2022 (1H22) was structured databases/data management, according to the International Data Corporation Worldwide Semiannual Enterprise Infrastructure Tracker: Workloads.
Read on to find out more.
Melissa says to make data quality a priority in fighting inflation over marketing programs
"Data quality touches every aspect of the business, making it one of the most effective areas for reducing the cost of customer outreach," said Melissa's Greg Brown. According to the provider, by using address verification to remove bad addresses, the sender can save up to $23,000 on postage and material costs.
Read on to find out more.
Monte Carlo announces new Power BI integration
Monte Carlo's latest integration with Power BI will help engineering and data analysis teams on the powerful visualization tool better understand the business impact when incidents and data anomalies occur, triage and prioritize data incidents based on impact and properly plan schema changes or cloud migrations. ensure business continuity for their Power BI users.
Read on to find out more.
Okera abandons OkeraEnsemble file control solution
With OkeraEnsemble, analysts/engineers and business/low-code data users have rapid access to tabular and file-based data at scale using a single, consistent, collaborative platform. OkeraEnsemble protects sensitive data and ensures privacy by managing access to data without having to use different tools for files and tables.
Read on to find out more.
New Report on Representative Data Shows Major Impact of Audience Characteristics on Data Quality
The report not only examines the impact of demographics and audience characteristics on data quality, but also provides a review of the data surrounding the quality of responses based on the device used to respond to surveys. Included are the quality measurement techniques and algorithms used, based on DM2's years of research on the topic, as well as specific best practices for avoiding data quality pitfalls surrounding respondent groups.
Read on to find out more.
Solutions Review Data Management and Analytics Announces Executive Roundtable Teaser for 4th Annual BI Insight Jam
Solutions Review reveals Philip Russom, Mark Diamond, Robert Eve, Susan Walsh – The Classification Guru, Tom Redman "the Data Doc" and David Loshin as Executive round table moderators and panelists. This year, Solutions Review is doubling down on its popular expert panel segments to meet demand for what its editors do best; bring together industry experts to publish the web's best content for business technologists.
Read on to find out more.
Talend Partners with Gateway and Snowflake on Data Health
Built on Talend Data Fabric and Snowflake's Data Cloud, Gateway's Data Rocket provides a scalable architecture that delivers governed data ingestion, trusted stewardship, cloud-based storage, and on-demand visual analytics based on data. healthy data. The new Data Rocket vertical solutions will be tailored to key vertical markets, starting with financial services.
Read on to find out more.
To be considered for future data management news digests, send your announcements to the editor: [email protected].

Latest posts from Timothy King
(see everything)