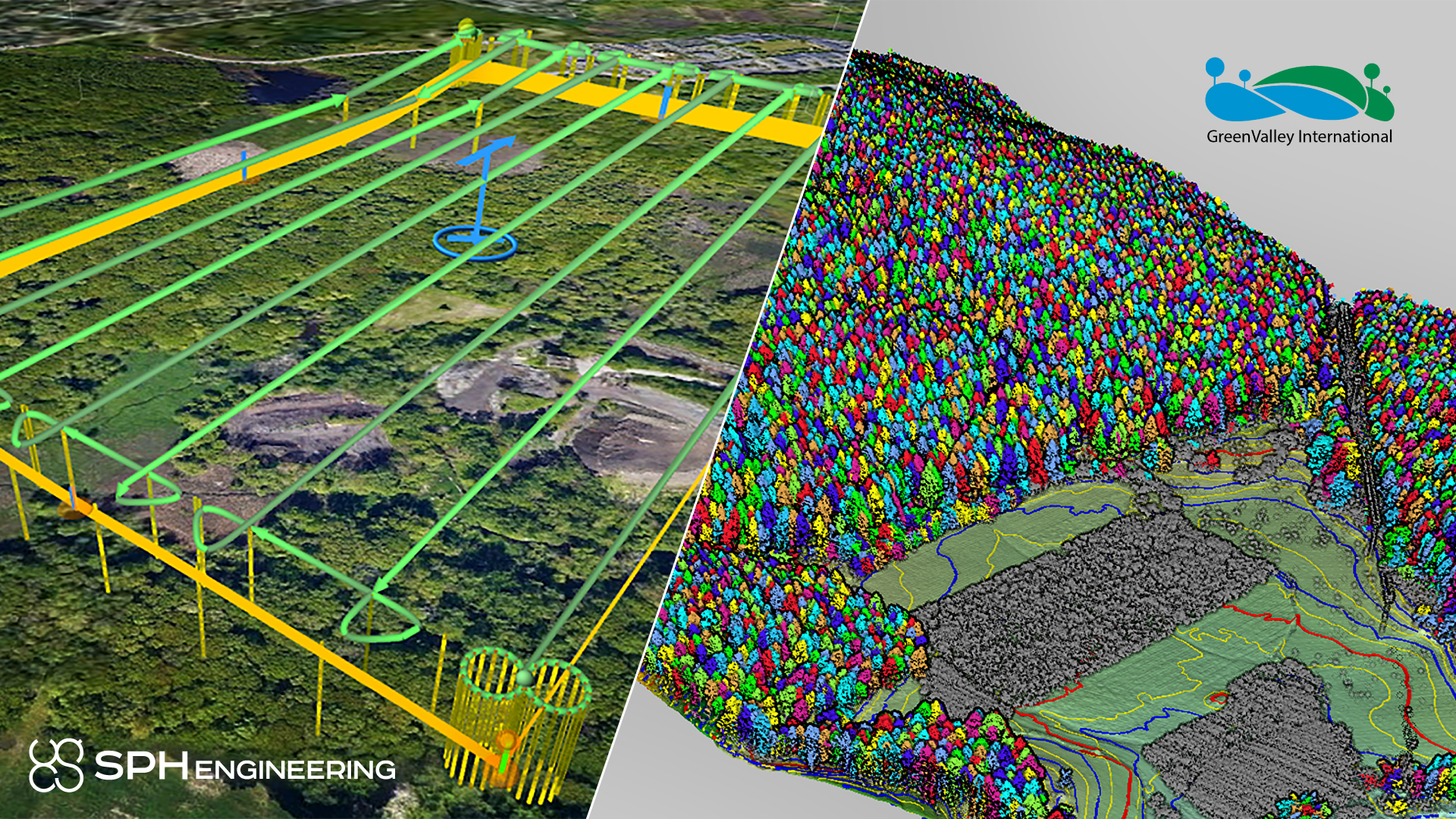 New Partnership Provides End-to-End Solution for Lidar Data Collection and Processing | Geographic Week News
SPH Engineering combines its UgCS software with GreenValley International's LiDAR360 framework.
In recent years, surveyors have increasingly turned to drone-assisted lidar to complete large surveying projects, leveraging the technology to more quickly and accurately survey large and complex terrain. According to a report by Fortune Business Insights, the lidar drone market was $129 million in 2020 and is expected to reach $143 million this year and up to $455 million by 2028, a compound annual growth rate ( CAGR) of almost 18%. . Companies are surely looking to capitalize on this growth by expanding their solutions, including YellowScan, which recently announced Voyager, their lidar solution for long-range drones.
This month, a new partnership was announced to provide end-to-end support for these projects, with SPH Engineering and its UgCS flight planning software integrated with GreenValley International's LiDAR360 data processing platform.
This could be a really big deal for users who are looking for end-to-end software to support their large-scale drone surveying projects. With UgCS, users can pre-plan their flights in the software to ensure that the entire area they wish to cover will be scanned. There are a multitude of different flight patterns that can be planned, for both photogrammetry and lidar flights, with traditional and vertical scan assist features. The software, which also includes live flight video, is also compatible with almost all popular lidar platforms, including brands like YellowScan, DJI, RIEGL, etc.
Meanwhile, once that flight is complete, users can then turn to GreenValley's LiDAR360 platform to process the captured data. With the framework, users can efficiently interact with and manipulate lidar point cloud data – over 300 gigabytes of lidar data simultaneously – according to their needs, the software also including data management, automatic band alignment and point cloud classification, which includes more than 10 peer-reviewed algorithms to ensure maximum accuracy.
This new partnership should provide many use cases for surveyors between the two products. The LiDAR360 framework has a few different specific applications, including forestry, mining, power lines, utilities, and the field. Combined with the many customization possibilities for flight planning with UgCS, including the aforementioned vertical as well as the corridors – especially useful in combination with the Powerline application of LiDAR360 – and the area with the possibility of pre-planning the half- loop turns and turns during flight.
SPH Engineering was founded in 2013 and is based in Latvia, but now has a global customer base and a network that spans over 150 countries around the world. A provider of drone software solutions and integration services, the company's main business areas are the aforementioned UgCS, UgCS integrated systems with sensors from several different manufacturers, Drone Show Software and a consulting business line and development.
GreenValley International has a widespread business model and is based in Berkeley, CA. Founded in 2013, it provides both hardware and software solutions to surveyors and describes itself as building "turnkey solutions for forestry, topographic surveying, emergency response, autonomous driving and land management. vegetation for electric utilities, as well as many other sectors and industries." In addition to data processing software, they have a number of hardware systems, with options for aerial and ground scanning.
As the popularity and use of drone-based lidar scanning becomes more mainstream in the industry, users will continue to seek more end-to-end solutions. This partnership between SPH and GreenValley seems to be part of this trend.